Return to Headlines
District 214 recognizes volunteers, supporters with Distinguished Service Awards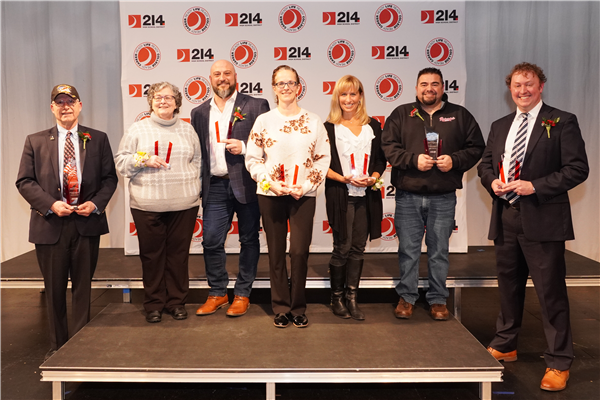 (From left) Greg Padovani, Jan Plachy, Nick Ruffolo, Colleen Wytmar, Wendy Johnson (accepting the award on behalf of Kathy Aykroid), Rolando "R.J." Gomez and Jack Costello were honored with this year's District 214 Distinguished Service Award.
Published March 24, 2023
The Board of Education for High School District 214 has honored eight individuals with the District's 2022-23 Distinguished Service Awards. The awards are presented annually to people—community partners, parents, volunteers and others—who have made significant contributions to the District and its students.
"Some of the most meaningful contributions to our District are made behind the scenes, by community members who share time, talent and expertise to impart critical knowledge, create invaluable learning experiences or otherwise go above and beyond to support our students," said District 214 Board of Education President Bill Dussling. "Typically, these individuals do this work without drawing attention to themselves or asking anything in return. So we look forward every year to announcing our Distinguished Service Awards as a way of recognizing and expressing our gratitude for their contributions."
The awards were presented at the March 23 Board of Education meeting.
The 2022-23 Distinguished Service Award honorees are:
Kathy Aykroid, thanked for her work to educate young people about the dangers of sudden cardiac death. Aykroid is executive director of the Max Schewitz Foundation, a Buffalo Grove-based nonprofit organization whose mission is to help prevent sudden cardiac death in young people. Since 2017, she has organized three heart screenings at District 214 schools; based on information from those screenings, multiple students have received medical care to proactively correct hidden heart conditions.
Jack Costello, honored for more than five years of volunteer work with the Rolling Meadows High School Mock Trial team. Costello is a practicing lawyer and an assistant state's attorney in Cook County who has dedicated hours to working with the Mock Trial team and visiting RMHS law classes to share his insights and expertise. With his help, Rolling Meadows went from a school without a Mock Trial team to participating in the state tournament in just five years.
Rolando "R.J." Gomez, applauded for a phenomenal partnership with the Elk Grove High School automotive program and its students. Gomez, operations manager for Rolando's Car Care in Elk Grove Village, is a long-serving automotive program advisory board member who helps with the school program's Automotive Service Excellence certification process. He and Rolando's also host many student interns and apprentices from District 214, helping them envision a future career in the auto industry.
Greg Padovani, saluted for his efforts to help District 214 recognize and remember the local community's military volunteers. A former Arlington Heights village trustee, and chair of the Veterans Memorial Committee of Arlington Heights, Padovani has served as a liaison for the District with local veterans groups, working closely with John Hersey High School teachers in their efforts to celebrate veterans.
Jan Plachy, celebrated for more than five years of volunteer work with District 214 Community Education's Adult Education programs. Plachy is a volunteer tutor in the Read to Learn program and also helps students enrolled in U.S. Citizenship classes. During the spring and fall semesters, she spends more than eight hours a week volunteering at the Schaumburg Township District Library, reading one-on-one with students and conducting mock naturalization interviews with individuals aspiring to become U.S. citizens.
Nick Ruffolo, recognized for supporting the Automotive Service program at Wheeling High School and expanding career-connected learning opportunities for District 214 students. The fixed operations director for Rohrman Automotive Group, Ruffolo volunteers time to help WHS maintain its Automotive Service Excellence certification. In addition, he worked with teacher Kurt Fenzel to create the first-ever District 214 Transportation Day last fall, which allowed more than 1,500 students to check out careers and companies in the transportation field.
Jeffery Stagg, honored for his unwavering support of District 214's students with disabilities and the programs that serve them. Stagg is director of Midwest operations for eWorks Electronics Services, established in 2009 to create employment opportunities for people with disabilities. Through a partnership with District 214 that began in 2021, more than 70 students have participated in eWorks work experiences, including 20 current students. These opportunities empower students and teach skills they need to succeed personally and professionally.
Colleen Wytmar, in the spotlight for her support of the Buffalo Grove High School band program. Wytmar is wrapping up her second year as co-president of the Buffalo Grove Instrumental Association, a parent-led booster organization that supports music education at BGHS. She led a team of parents in developing and implementing innovative fundraising efforts that have secured additional resources and experiences for band students, and helped position the BHGS bands for success in the future.