Return to Headlines
Serafin Fund aids adult students' American dream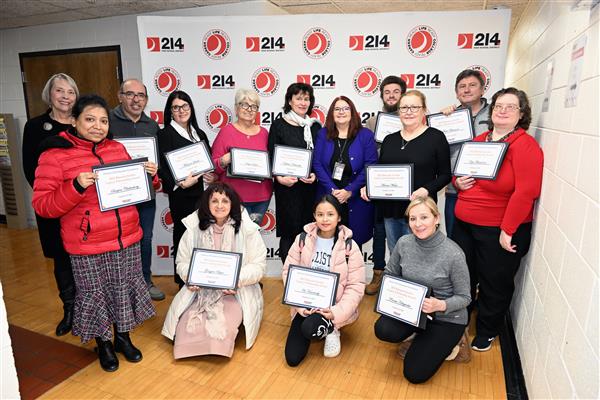 Published March 30, 2023
Every American has an origin story. And while the locations of our origins shift over time, the power of these stories never recedes.
Consider, briefly, just three of the 16 Adult Education students in Community Education who last year received awards from the Rhonda Serafin Legacy Fund for Adult Education and Family Literacy, made available by the District 214 Education Foundation.
Hanna Walus came to the U.S. from Poland six years ago, in her 60's. She had no English skills. None. Instructor Ewa Crowe says Walas has made "unbelievable progress learning English." Moreover, Crowe found the bilingual study guide that Walus created for herself to be so effective that she asked permission to use it as a teaching tool. "One of the best students I have ever had," Crowe said of Walus.
Chimgee Tsegmid comes from Mongolia, where she earned a bachelor's degree in accounting. She is described as an excellent student in her Adult Education classes and will receive $200 in Serafin Funds to have her transcript credit evaluated in support of pursuing a career in accounting.
Then there is Grazyna Bigas, who also came to the U.S. knowing no English. Through Adult Education classes, she developed the language skills and confidence to open a cleaning business. Encouraged by her success, Bigas – who recently became a U.S. citizen – is now serving as a mentor and coach to other students. Bigas explains, "I came to America to better my family's life. My dream was to become a U.S. citizen because I wanted to start a new life in this beautiful country that is known to be full of opportunities for hard working people."
Sound familiar? Over centuries, the dream never changes. Becoming a U.S. citizen is life-changing. Every year, scores of people reach that goal through Adult Education's Citizenship Program, which prepares legal permanent residents to become citizens through such things as citizenship preparation classes and practice naturalization interviews.
Over the years, the program has helped more than 15,000 immigrants in becoming American citizens. Just this fiscal year since July 1, 2022, the Citizenship Program has served over 500 students, with more than 100 sworn in as new U.S. citizens.
All of this is bolstered by the Serafin funds, which aided these 16 recipients by covering $200 to $500 in costs related to citizenship application filing fees or the evaluation of degrees earned in other countries. For recipients, this financial boost, coupled with the value derived from Adult Education courses, becomes a key tool as they work to earn upward financial mobility in their new country.
Every year, Citizenship Program Coordinator Ewa Crowe shares accounts of recipients whose gratitude and joy for these learning opportunities and monetary assistance bring them to tears and further fuel the pride and confidence they need to thrive in and contribute meaningfully to their new community.
This endeavor is named in honor of Rhonda Serafin, who for more than 30 years inspired thousands of District 214 Community Education students. On the occasion of her 2018 retirement, the Education Foundation announced the new Legacy Fund, designed to provide additional resources to assist enthusiastic adult learners in the community.
Other recipients, in addition to the trio mentioned, are Fedir Bersenov and Olga Bersenova, Swapna Chakraborty, Tetiana Demchenko, Elzbieta Kolacinska, Renata Kubajewska, Marzena Lesiak, Vasyl Matiichuk, Hector Moreno, Olga Pryshliak, Hayrie Ismail, Rie Tatsuhira and Va Vannrady.
The Serafin Fund, like other awards distributed by the Foundation, is supported by the generosity of donors who believe in the cause and the support of students, lifelong learning and public education.
The awards are given annually. To make a donation, individuals can make checks payable to the District 214 Education Foundation, with "Serafin Fund" in the memo line, and mail to the Foundation at 2121 S. Goebbert Road, Arlington Heights, IL 60005. Or visit the Foundation's website at www.214foundation.org and search "Serafin." Those interested in learning more can also contact the Foundation Office by phone, (847) 718-7708, or email, foundation@d214.org.