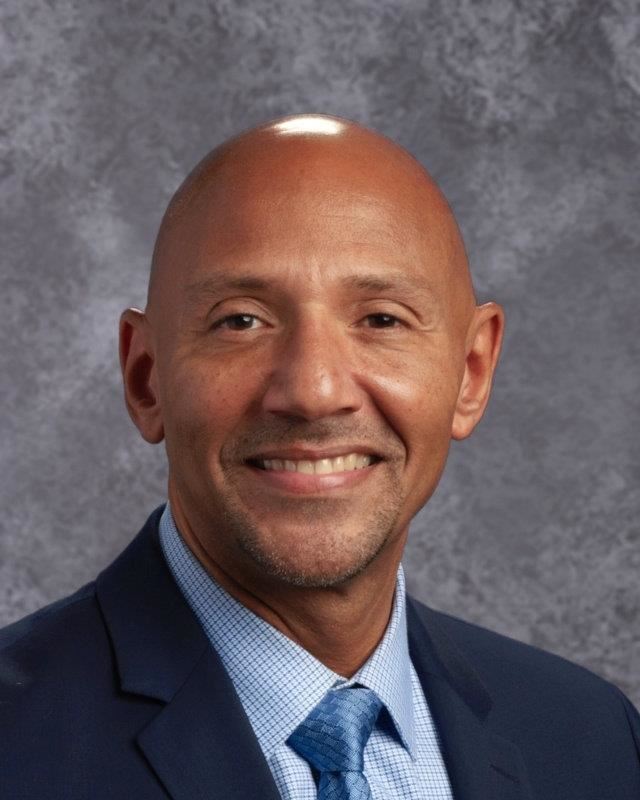 Phone: (847) 718-4810
Email:
Degrees and Certifications:
Mr.

Rogers

I'm elated to be named Principal of John Hersey High School. It's very important to note that our remarkable learning environment was built over the past decade through the leadership of former principal Gordon Sisson and his administrative team which includes retiree Dr. John Novak, Joe Krajacic, Ron Kiolbasa, Patty Grow, our Division Heads, and the entire John Hersey High School staff.

I'm hoping that ALL our students are happy with the Hersey experience thus far. We have many students who are established in the school culture with friends and activities, and there are those who perhaps don't feel as connected. I'm interested in building and growing our community to include everyone. Hersey has so much to offer, we are making intentional efforts to ensure that all students and staff feel not only welcome, but valued.

I want to encourage our students to demonstrate gratitude and inspire them to use their strengths and gifts to help others. To those who have plenty of friends I'd like them to consider expanding their circle of influence to include others without compromising integrity.

Personally, I didn't do anything to merit being born in America. I could have been conceived in North Vietnam in 1968 and born in the middle of a war. I did absolutely nothing to deserve the privilege of being born here; but I sure am thankful!

We're talking a lot about justice these days. something extraordinary must occur in order for justice to be truly manifested. Russian philosopher, Alexander Solzhenitsyn said "Justice is conscience, not a personal conscience but a conscience of the whole of humanity." The more happy, productive, grounded students we graduate at John Hersey High School, the closer we get to justice. We are not teaching our students to be sheep, we are not programming robots. Our students have the capability to reason, think deeply, and make good decisions.

The focus of our learning environment is both academic and social emotional growth. We are working to ensure that every student is engaged to reach their potential, but then also to make sure they are ready to make a positive difference in a community. We can do this by building a foundation of social emotional intelligence in every student so that they can maximize whatever academic, social, and/or physical skills they have.

I would like to appeal to any student in our community who is perhaps demonstrating bully type behavior, anyone who is not managing themselves and/or their time appropriately, anyone who is struggling with either alcohol or illegal drug abuse. We are here for you, reach out to someone you trust at Hersey. You have a choice in terms of your happiness and how you influence this community. Everyone has something positive to contribute. Remember, a tree is known by its fruit; our actions speak profoundly about who we really are.

We've asked our students and staff to approach these most challenging times by adapting, keeping each other safe, and just doing their best. I'm proud to say we're off to a great start. I'm thankful to Dr. Schuler and the Township High School District 214 Board of Education for this opportunity, I appreciate their support and trust.

A huge thank you to the parents, guardians, and students of this amazing community. You have made me feel very welcome.